Malbec is a well-known wine practically synonymous with Argentina. But who knew Malbec is named for Sieur Malbeck, an 18th century Bordeaux vintner who gained commercial fame with the grape?
"In France, most people know the birthplace of Malbec is Cahors, only a two-hour drive east of Bordeaux," said Alexis Blondel, the French-born head sommelier at the Alain Ducasse restaurant Benoit in New York City.
"When I offer guests a taste of Cahors Malbec, they like it and are surprised it's not Argentinian," added Blondel. "I tell them it's from the home of the best Malbec wines in the world, We serve Lagrezette, a winery housed in a refurbished Château that takes its 500-year history seriously."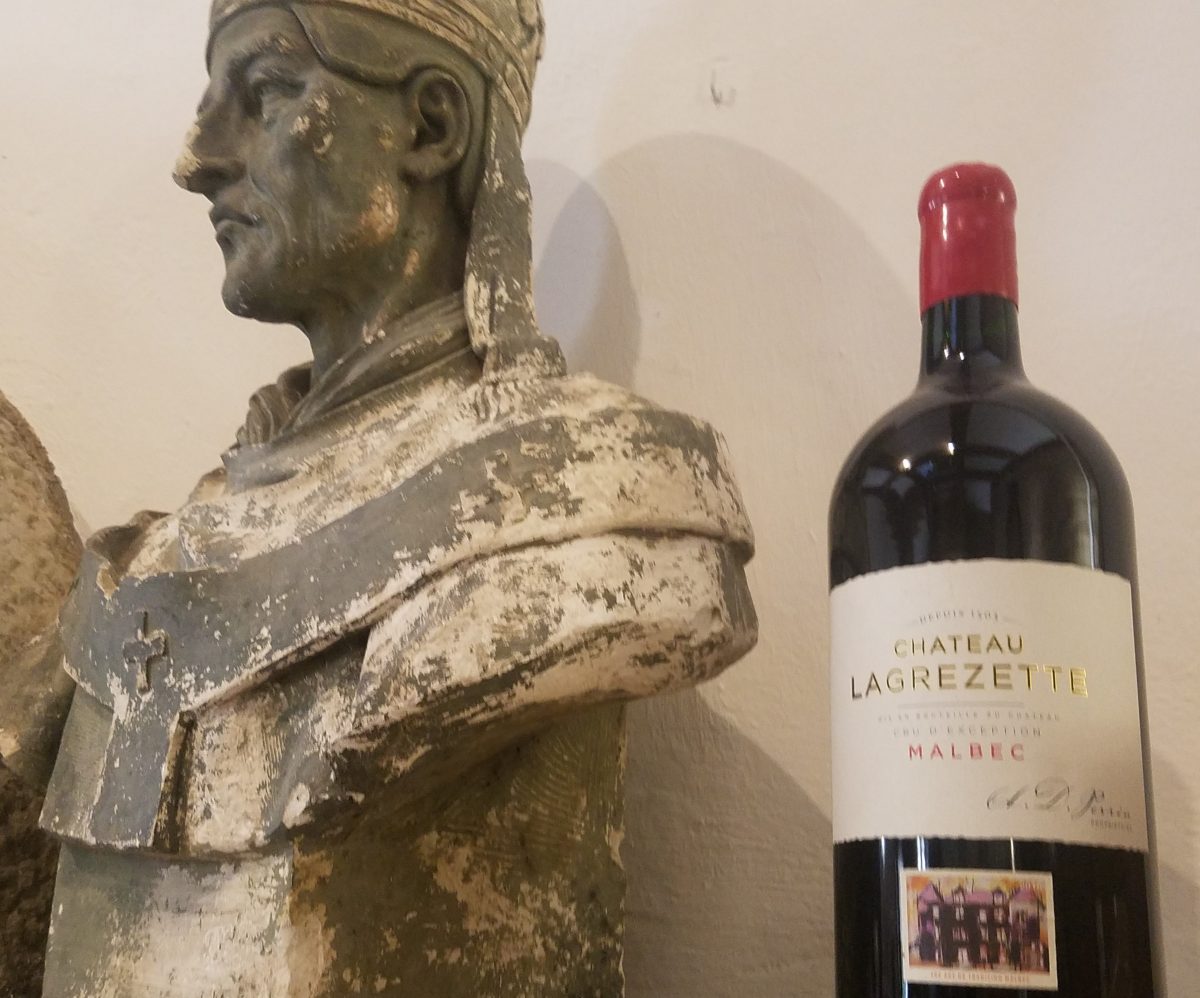 Produced in a region known for its gastronomy of foie gras and truffles, Cahors Malbec has gained a reputation as a food-friendly wine at an excellent price point. Since the 1990s, Cahors has attracted world famous vintners and winemakers. Meanwhile multi-generational families continue to improve their properties and young winemakers launch new wineries.
Cahors was long famous for its deeply colored and tannic "black wines." The Romans planted grapes and by the Middle Ages, Cahors' fame was at its height. Pope John XXII, born in Cahors, moved the papacy to Avignon and ordered churches to pour Cahors red for the sacraments. For several centuries, Christians throughout the West—and even Peter the Great and the Russians—enjoyed Cahors Malbec in church. In honor of Cahors' heritage, vines grow in a city park next to the historic Pont Valentré bridge.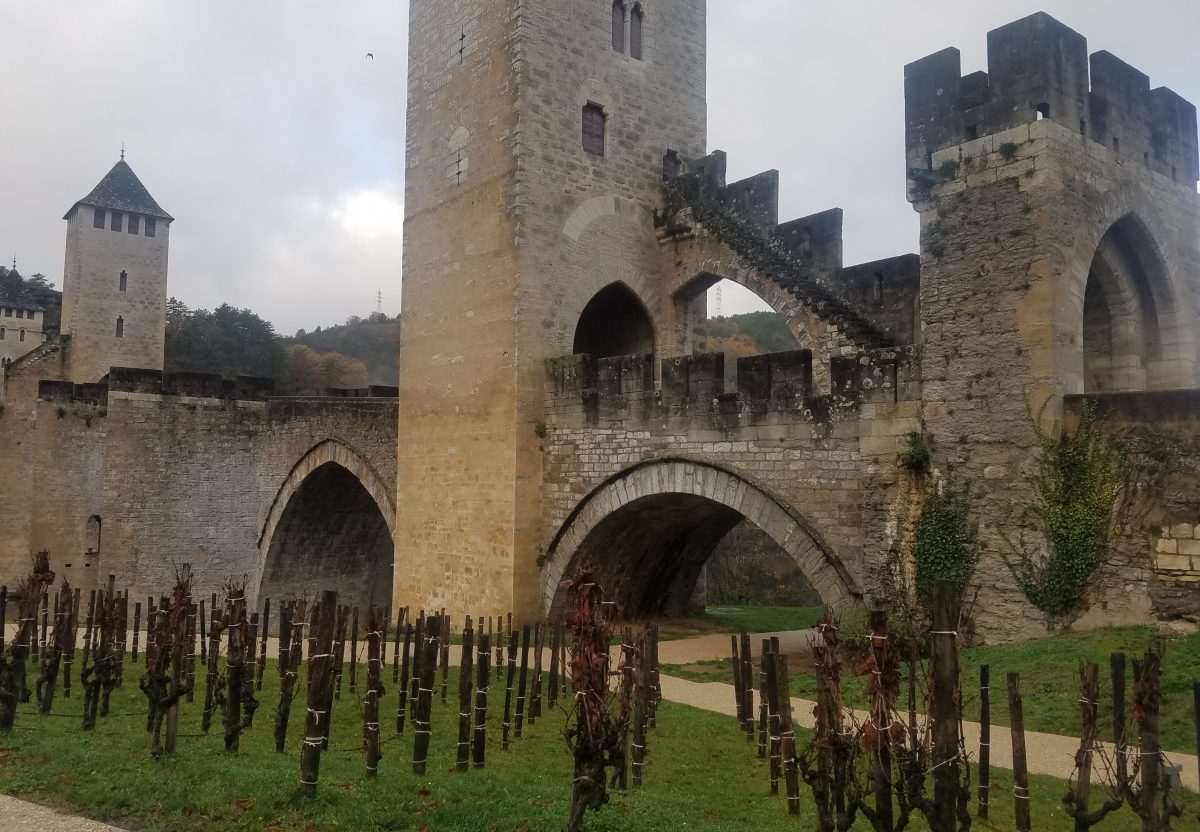 At Le Colonial a Vietnamese-French bistro in Houston, Texas, general manager Trevor Wiedeman only serves Cahors Malbec. "We help our guests learn and appreciate Cahors by focusing on the unique terroir of Triguedina winery."
Cahors is located mid-way between the Atlantic and the Mediterranean. The River Lot meanders through the town of Cahors and the surrounding villages comprising 4,100 planted acres of Malbec. The plateau and cascading series of three terraces leading to the river result in fascinating soil variations. World-renowned winemaker, Paul Hobbs, says this terroir is unlike any other  except Burgundy.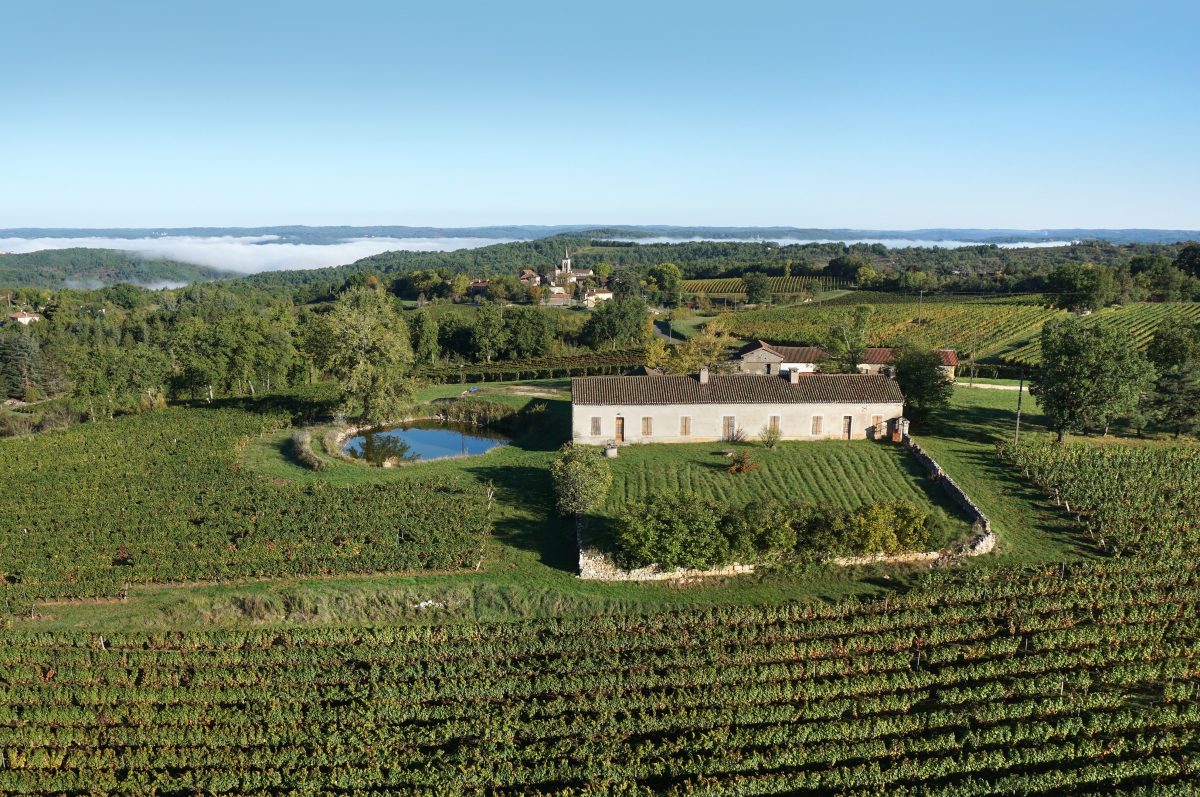 Grapes grown in the limestone plateaus show intense and complex flavors with a prominence of structure and minerality. The wines which come from the terraces of alluvial clay and sandstone bring lighter and fruitier flavors.
These vineyards were devastated by Phylloxera in the late 19th century and then impacted significantly by the war-time era that followed. Winegrowing recovery began in the 1950s. Designated as an AOC appellation in 1971, Cahors AOC appellation now has 180 producers. The AOC is for red wine only, made from a minimum of 70 percent Malbec with Merlot and Tannat allowed as blenders.
Gary Darst, wine director of Plaj restaurant in San Francisco, California, appreciates the food-friendly nature of the French wine. "I like the restrained style of Cahors Malbec versus the straightforward, one-dimensional Argentinian Malbecs with our Scandinavian-infused menu. Château La Caminade from Cahors is balanced and not a fruit bomb that would overpower our grilled saddle of elk or Swedish meatballs accented with lingonberry jam and pickled cucumbers," says Darst.
Major League Cahors Malbec Vintners
There are many signs that point to the renewal of quality in Cahors Malbec. Alain Dominique Perrin, the former president of Cartier International, who is credited with reinventing the Cartier brand, could have purchased vineyards anywhere. But attracted by the diverse soils and history of Cahors, Perrin invested in vineyards and rebuilt Château Lagrezette. After several years, he invited global consulting winemaker Michel Rolland of Bordeaux to assist. Rolland oversaw construction of a gravity-flow winery and reinvigorated vineyard practices. Working with the in-house winemaker, Rolland creates the final blends for the brands including the flagship Lagrezette Le Pigeionnier.
"At Benoit, a 'bistronomique' restaurant, Lagrezette Le Chevalier is a succulent match with duck à l'orange with daikon, turnip and dolce forte sauce," says sommelier Blondel. "With elegant, yet full-bodied wines such as Chevalier du Château Lagrezette, the winery has greatly contributed to the renewed interest in Cahors Malbec on the world stage.
"If a customer asks for a Bordeaux or a Napa wine, I'll offer Cahors Malbec. Chevalier du Château Lagrezette is half the price to a comparable bottle of non-classified Bordeaux."
In contrast to Perrin, Bertrand Vigouroux is a fourth generation vintner in Cahors. After Phylloxera ravaged the landscape, Vigouroux's father was the first to replant Malbec on the plateau terroir.
In 2007 Vigouroux decided to ramp up quality once again. He called on Paul Hobbs, the global consulting winemaker, famous for his work with Catena's Malbec wines in Argentina and owner of wineries in Sonoma and internationally. After Hobbs worked in the region for a few years, he recognized the potential of the Vigouroux's wines, and they launched Crocus Wines. Named in honor of the flower of another agricultural product of Cahors, the saffron plant, the winery produces a range of Cahors Malbec wines.
Hobbs believes that Cahors Malbec is an incredible value. "Think of Cahors as a fully loaded Porsche with all the horsepower and maneuverability that you want for the price of a mid-priced Audi. The Cahors tannins give excellent structure—but without the iron fist of other tannic red from Europe. Crocus Le Calcifère wine is a good example of balanced wine."
Another highly awarded French vintner chose to invest in Cahors two years ago. Bordeaux native Hervé Joyaux Fabre, owner of acclaimed Fabre Montmayou and Viñalba in Argentina, purchased three Cahors estates: Saint Didier Parnac, Château de Grezels, and Prieure de Cenac.
Fabre was intrigued by the caliber of wines coming from Cahors. With a strong understanding of the U.S. market for Malbec, Fabre returned to his Southwest France roots in to produce terroir-driven Cahors Malbec with good balance between what he calls "body, fruit and elegance while offering the best value for money."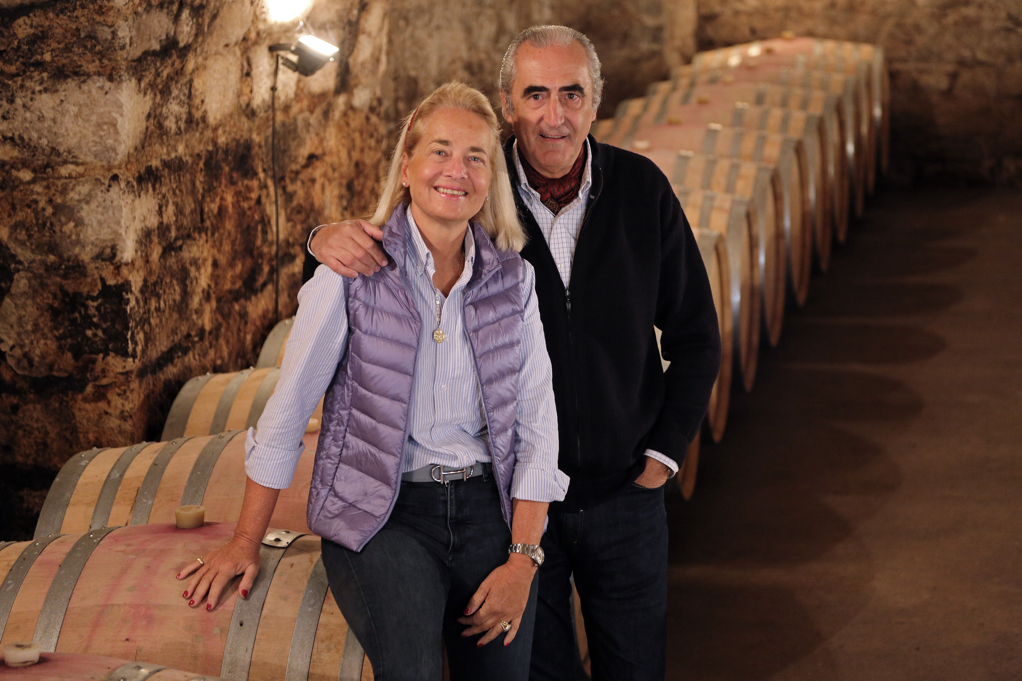 Fabre has already found a strong audience for Château de Grezels in the U.S. and Saint Didier Parnac in Canada. Another brand in the U.S. market is Les Latis Grande Reserve Cahors Malbec, named for the Celtic word for daylight, a reference to the sunny climate for ripening in summer and fall.
Clos Triguedina has winegrowing roots dating back to 1830. The Baldès family, said owner Jean-Luc Baldès, is one of the pioneer families of the revitalized Cahors region. The name, again, refers to Cahors' heritage, this time reflecting the regional Occitan language. In the Middle Ages, pilgrims stopped at the property to eat on their way to Santiago di Compostella. Triguedina means "I am looking forward to dinner." One of the winery's brands is New Black Wine, honoring the nickname for Cahors Malbec. Triguedina is active in the U.S. market through importer Vineyard Brands of Château Petrus fame.
Cahors Malbec's Growing Recognition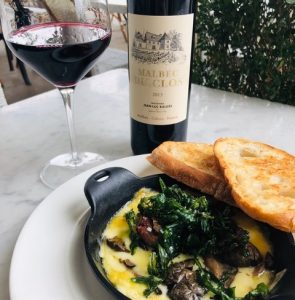 Restaurants and vintners see a bright future for Cahors Malbec.
At Le Colonial in Houston, Wiedeman often recommends Triguedina for guests. "The natural expressive tannin and beautiful color, and tastes of rich, stewed cherry, ripe plum with a distinctive spice are the reasons I carry only Malbec from Cahors."
Brasserie 19 in Houston serves classic French steak frites and mussels. But the dish that General Manager Wendi Kfoury suggests as an ideal pairing with Cahors Malbec is cheese. Kfoury lists Triguedina wines and those of Château de Cèdre. "We often recommend Triguedina Malbec du Clos with our baked raclette appetizer. The wine stands up to the assertive cheese and has an earthiness that complements the truffle and mushrooms in the dish."
Cahors Malbec is recognized worldwide as a leader in restaurant red wines. Chef Thitid Tassanakajohn, owner of Michelin-starred Le Duc in Bangkok, offers an outstanding global array of wines. But at the more casual Baan, a Cahors wine is listed as a popular and reasonably priced choice for the chef's home style cooking at the restaurant.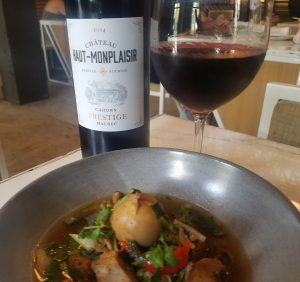 As for where Cahors Malbec is headed: more wineries are turning to sustainable farming. At Benoit, Blondel lists Domaine Cosse et Maisonneuve, a 15-year-old winery that is farmed biodynamically. Le Domaine de Saint-Géry, which currently features agritourism with a hotel, restaurant, and an on-site truffle farm, has put plans in place for producing biodynamic wine. Cahors already farms 17 percent of the AOC vineyards organically compared to an average of 10 percent in French wine regions.
Meanwhile, vintners continually replant based on terroir analysis and offer more single vineyard labels.
Fabre of Saint Didier Parnac is confident of Cahors' potential: "We believe that the American consumer who knows the Malbec from Argentina is ready and curious today to discover other great Malbec wines from Cahors."